In April,  2016,  the interdisciplinary round table discussion on the topic 'Ukrainian journalist's reputation and moral focus on Ukrainian reforms' was held in Ukrainian Humanitarian Institute (town Bucha) with the support of the Academy of Ukrainian Press. The round table was conducted within the International scientific and practical conference 'Moral discourse of contemporary media considering present day challenges' organized by the Institute of Journalism, Taras Shevchenko Kyiv National University, Ukrainian Humanitarian Institute, Podkowa-Lesna Highest College of Theology and Humanities, Institute of Mass Information and Social Sciences (Poland).
Round table participants were practical journalists, trade union representatives, scholars from leading educational establishments who teach future journalists, teachers and students. They discussed issues of socially responsible point of journalist in society, belief and reputation of media, moral standards and values of journalist that is the most relevant today in Ukraine.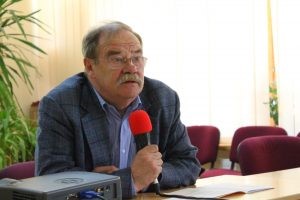 Round table was moderated by Volodymyr Mostovyi, founder of Journalistic Ethics Committee, founder and chief editor of Dzerkalo Tyzhnia ('Weekly Mirror'). He shared with the experience of how to create a quality periodical, form and maintain reputation by team during the whole period of activity. Discussion participants paid attention to the issue of educational and continuing preparation of journalists. Some expressed the idea that journalistic profession should be obtained only by those who have got Bachelor degree in a different specialty: Economy, Natural Sciences or Arts. After the round table completion its participants visited the central studio of TV channel 'Nadia' that is situated on the territory of Ukrainian Humanitarian University campus.