In June, 19-20, more than 200 media experts, government representatives, journalists and scholars participated in the conference "Safeguarding Media Freedom in Volatile Environments" initiated in Vienna (Austria) by OSCE Representative's Office on Freedom of Media. The most numerous delegations were from Ukraine and Russia. Oksana Volosheniuk, manager of media education programs of AUP gave a speech at the meeting Prevention of Misinformation and Manipulations and introduced strategies and approaches to media literacy implementing in Ukraine.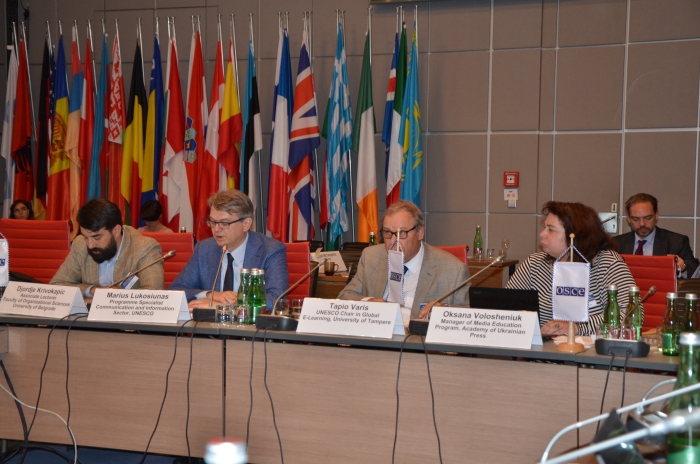 Tapio Varis, Head of the UNESCO Chair in Global E-Learning (University of Tampere, Finland), was a moderator of the section and positively assessed Ukrainian experience, especially, the intensions to prepare and train media teachers, which have been realized by the Academy of Ukrainian Press for 7 years with the support of U-Media, Internews-Network
The memorandum of the OSCE Representative states that state authorities should make efforts to develop educational curricula on media and internet literacy, because only a well-informed, media literate citizens can make rational rather than emotional decisions.
The conference was also visited by National Association of Journalists of Ukraine headed by Serhii Tomilenko who managed to conduct negotiations with representatives of Russian Association of Journalists and make a joint statement on Stanislav Aseiev's disappear in Donetsk, who is famous as Ukrainian journalist of "Dzerkalo Tyzhnia" (Weekly Mirror) newspaper. Yurii Artemenko represented Ukrainian Government being Head of Ukrainian Television and Radio Broadcast Council.