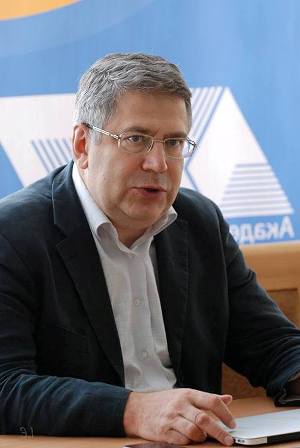 I need to put out a statement of personal matter. I am rather bewildered for the reason of certain events in my family that I can hardly trust.
Short preamble: a group of journalists including my son conducted an investigation of persons who had applied for a competition to the State Bureau of Investigation. In the course of searching, it became clear that one of them was Mr. Shevtsov, extremely rich man. This resulted in online publication. As a consequence, instead of any comments to a police officer's sources of income, a criminal charge was filed against my son. He has been charged not just with an interference in Mr. Shevtsov's personal life but also with the participation in a certain conspiracy against this person. Apparently, the prosecution realized futility of attempts to link my son to criminal matters, so police officers started making pressure on me and my wife as parents of Denis! It is hard to believe, but in our absence during the motion of prosecution Pechersk Court decided to arrest all our private entrepreneur bank accounts. This is bullying and idiocy. These accounts received funding only from foreign structures: Missions of German political foundations, American organizations (IREX and Internews), the U.S. and British Embassies to Ukraine (the last transfers went through NGO of AUP, however, with a clear identification of grant number for which the payment was made), other similar institutions. We receive NO money transfer from ANY private entrepreneur or Ukraine's company on our accounts! In order to clarify this, it was enough to send requests to the bank. But the purpose was obviously different. By their abusive actions, inquiry officers are trying to make the son to agree on  a deal with them and  on self-incrimination.
Now I have a house-check. Again, it is hard to believe, but in a search warrant I was accused of being a participant of a criminal group that illegally collects personal data to receive a ransom!  Proof of the warrant is correspondence with my son in WhatsApp and Threema. Outrage lie! I have never used the messenger Threema. Not at any single moment. I have WhatsApp on my downloads. But I never had any criminal correspondence neither with Denis, nor with anyone else! I am addressing those who know me. Can any of you imagine that I am going to collect information about people and seek a ransom? Outrage, disgusting and horrible lie! This is total lawlessness showing that our law enforcement bodies not only got stuck in corruption but by all means are trying to intimidate journalists and secure themselves from similar investigation reportages. In addition to this, they do not hesitate to resort even to openly Stalin's style of actions. Pressure on the son through persecution of parents is utter bestiality! I am sure that Denis Ivanov, my son, will prove his innocence! But I doubt if the criminals from the Ministry of Internal Affairs will carry punishment. For too long we have been a corrupt country, we have got too much adapted to public officials (including "the law enforcement") who break the law and our rights with impunity!
Prof. Valeriy Ivanov, Doctor of Philology, President of the Academy of Ukrainian Press.